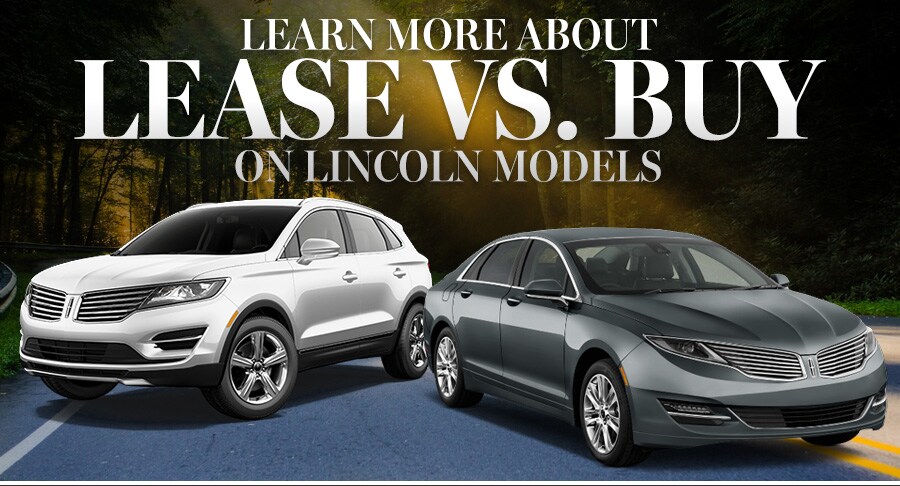 Should You Buy or Lease Your Next Vehicle?

So you've been shopping for a vehicle at our Lincoln dealership near Killeen, TX, and now you're ready to pull the trigger on a particular model. That's great! The only question that remains is: how do you want to acquire it? You can choose to pay for it in cash, finance the purchase or lease it over time… but which option is right for you? The Covert Lincoln finance department is here to demystify your choices and help you pick the right one.

When you buy a vehicle at our Lincoln dealership near Austin, TX, you can either pay for it in full up front or break up the cost over a number of years. The latter is the more popular option. Choose to finance and you'll take out a loan from a financial institution in order to afford the vehicle's asking price. Then, you settle that loan a little at a time, usually over 24, 36 or 48 months. You can also trade in your old car or use Lincoln incentives to reduce the overall price. However, financing can be significantly more expensive than leasing, and you're stuck with the vehicle you chose. You also have to assume the costs that come with owning a vehicle.


When Financing Your Vehicle...
You have a larger down payment and often pay more on a monthly basis.
You spread out your payments over a couple of years.
You pay more to own your vehicle for its lifetime.
You can take it on long road trips or tough off-road trails without worrying about mileage limits or damage penalties.
You can customize it to your liking with Lincoln accessories and modifications.
If you're looking for a little more flexibility or day-to-day affordability, leasing is the obvious answer. You'll need to put less money down and spend less on monthly payments. Leasing is also more convenient than financing because your maintenance is generally a non-issue thanks to the warranty coverage, and you don't have to fret about negative equity if you change your mind about the lease. Once your lease term is up, though, you must return your vehicle to our dealership, extend your lease to keep driving it or pick out a new model with which to start a lease term. The vehicle is also not your property so you can't alter it much. However, this means you can drive a fresh set of wheels every couple of years and keep your daily routines interesting!
When Leasing Your Vehicle...
You have a smaller down payment and often pay less on a monthly basis.
Your vehicle is never yours, and you must bring it back when your lease ends to extend your lease, or so you can pick a new model.
General Lincoln maintenance is covered under the warranty, so the cost of having a vehicle is lower.
You can't significantly modify your vehicle.
You have mileage limits, and you must pay a fine for excessively damaging your vehicle.