Refined Towing Capability
Driving an elegant and sophisticated SUV is no reason you can't enjoy your free time. The 2020 Lincoln Corsair comes equipped to haul any matter of craft, with its two powertrain options. Up to 3,000 pounds worth of fun when properly equipped.
The five-passenger Lincoln Corsair comes to Austin and Round Rock drivers with two trim options, a single engine option, and a long list of tech and comfort features. Whether you're in the market for a luxury SUV for the family or you're looking for a versatile SUV for solo commuter needs, the Lincoln Corsair is an excellent model to consider.
Towing Capacity: 2,000 pounds
Looking for a luxury vehicle that's capable of towing casual loads? Looking to tow your boat near Pflugerville? Just want to tow your camping supplies to Cedar Park? The Lincoln Corsair may be the vehicle for you! The Lincoln Corsair deftly combines power, performance, 
The long and short of it: the Lincoln Corsair touts a maximum towing capacity of 2,000 pounds. Towing functionality is possible thanks to a 2.0-liter turbocharged inline-4 engine or a 2.3-liter turbocharged inline-4 engine. While there's a total of two trims (Standard and Reserve), Austin area drivers can look forward to the same eight-speed automatic transmission regardless of the trim selected. Both trim options are available with front-wheel drive or all-wheel drive configurations. 
Performance & Power Overview 
2.0-liter turbocharged inline-4 engine: 250 horsepower/ 280 pound-feet torque
2.3-liter turbocharged inline-4 engine: 295 horsepower/ 310 pound-feet of torque
Eight-speed automatic transmission
Front-wheel drive/ all-wheel drive
Learn More About the Stunning 2020 Lincoln Corsair in Austin, TX
The 2020 Lincoln Corsair is just what you've been waiting for. This luxury compact SUV is as reliable as it is gorgeous, no matter which direction you drive, you'll be turning heads. The sleek exterior catches the light in all the right places, and the signature Lincoln grille exudes luxury. Within, you'll have everything you need to feel calm and ready for the roads ahead. Driving is about more than getting from point A to point B, it's about creating your own experience along the way, and what better car to do it in than in the 2020 Lincoln Corsair.
Powerful Performance & Capabilities
No matter the weather the new Lincoln Corsair drives with confidence and control. Equipped with Intelligent All-Wheel Drive technology, the Linocln Corsair optimizes efficiency by switching power between front-wheel drive and all-wheel drive in response to changing road conditions. When you match this system with Lincoln Drive Modes, the all-wheel-drive offers more power and secure performance where, and when, it matters most.
Every time you get behind the wheel of your new Lincoln Corsair, you'll enjoy a smooth and satisfactory ride. Under the hood of the Lincoln Corsair, you'll find two available engine options. The first is an available 2.0L I-4 engine. The second choice is a 2.3L that outputs 280 horsepower for fun acceleration off the line. When you combine these engines with the new eight-speed transmission and four-wheel independent suspension, you'll have fantastic agility, handling and nimbleness.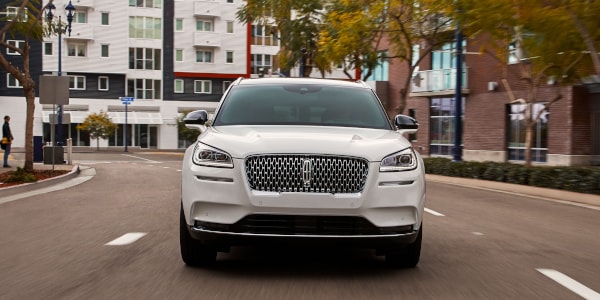 Your Own Calm Space
As much as you like to live life in the fast lane, sometimes you want to be able to recharge. The interior of the 2020 Lincoln Corsair is your own sanctuary thanks to the dual-wall dash between you and the powertrain. This system creates a sound barrier that hushes the sound of the engine, offering you a space that is easy to talk in, and your music will sound clearer than ever. Being alone with yourself has never felt this good.
Lincoln Embrace
Your Lincoln Corsair knows when you've arrived, and it shows you with a warm welcome. Every 2020 Lincoln Corsair comes equipped with the Lincoln Embrace program. The Lincoln Embrace adds an added touch of luxury when you draw near, as you approach your Lincoln Corsair invites you in with sequential lighting, a Signature Lincoln Welcome Mat, a soft LED exterior glow and overhead lighting that lights up the interior.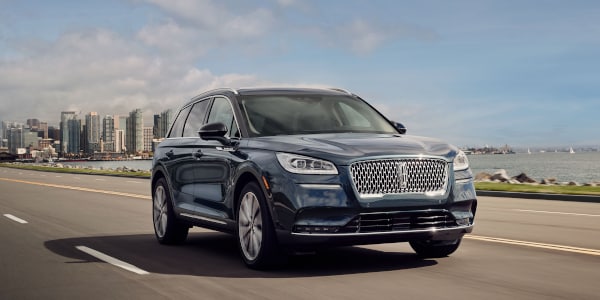 All About You
The Lincoln Corsair remembers what you like with personal profiles. Using personal profiles, your 2020 Lincoln Corsair can recognize you by your key fob. You can create pre-selected settings that include seat positions, lighting preferences, and audio. Let your Corsair do the work while you settle in for the journey.
Lincoln Advanced Technology
Everything you need when it comes to entertainment and navigation is located on the clear, sleek center touchscreen. Lincoln Co-Pilot360™ technology comes standard and offers you, easy-to-use driver assistance features, and an expanded awareness of the streets around you. You'll also be equipped with Blind Spot Detection with Cross-Traffic Alert, Pre-Collision Assist with Automatic Emergency Braking, Lane-Keeping System, Rear View Camera and Auto High Beams headlamps.
Trim Levels
The Lincoln Corsair comes in two available trim levels, Standard and Reserve. The Lincoln Reserve arrives with all the standard features of the base model as well as added technologies and exterior color options. If you are looking for the ultimate 2020 Lincoln Corsair, the Lincoln Corsair Reserve is a beautiful option.
Want to check out a new Lincoln Corsair? Stop by Covert Ford for a test drive! 
The new Lincoln Corsair is well-suited to a range of driving needs! From casual cruising in Austin to soccer games in Georgetown, the Lincoln Corsair is ready to help! Have a few lingering questions about the new Lincoln Corsair? Stop by Covert Ford to meet with a sales associate or finance team member! We have a team member that's ready to assist with almost every step of the vehicle buying process! Stop by our dealership to test drive a new Lincoln Corsair!